Mainframe modernization has been a hot topic over the past decade or so. Many people have predicted the demise of mainframe times. But the mainframe is standing tall, strong and growing. Over time, the term "modernization" itself is manifested in many ways. So to even begin the modernization conversation, we need to define what modernization is.
As Henry Ford once said, "If I had asked people what they wanted, they would have said faster horses." Instead, Ford invented an automobile for the masses to improve their lives. So modernization is akin to evolution, which in hindsight reflects the progress humanity made in lifestyle, resilience, knowledge, communication, and, in general, wisdom.
Similarly, modernization in mobile phones meant lighter weight, wider screen, faster speed, and more storage. And then the iPhone was released in 2007, which showed innovation and changed the way humans interact with digital devices.
Deciding on mainframe modernization
The decision to embark on a mainframe modernization journey typically lies with three stakeholders: infrastructure owners, application owners, and business owners. For a long time, mainframe modernization has focused on solving infrastructure and application problems like higher cost, lack of skillset availability, locked-in data, and poor integration with modern tools and products.In other words, mainframe modernization has been only focused on the infrastructure and application layer.
In this paper, we try to understand the importance of 'business owner', who is the most critical stakeholder and sponsor.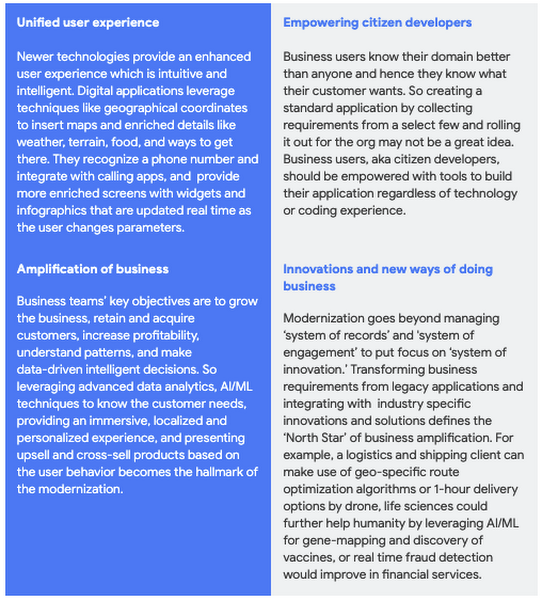 Journey depends on disposition for data and applications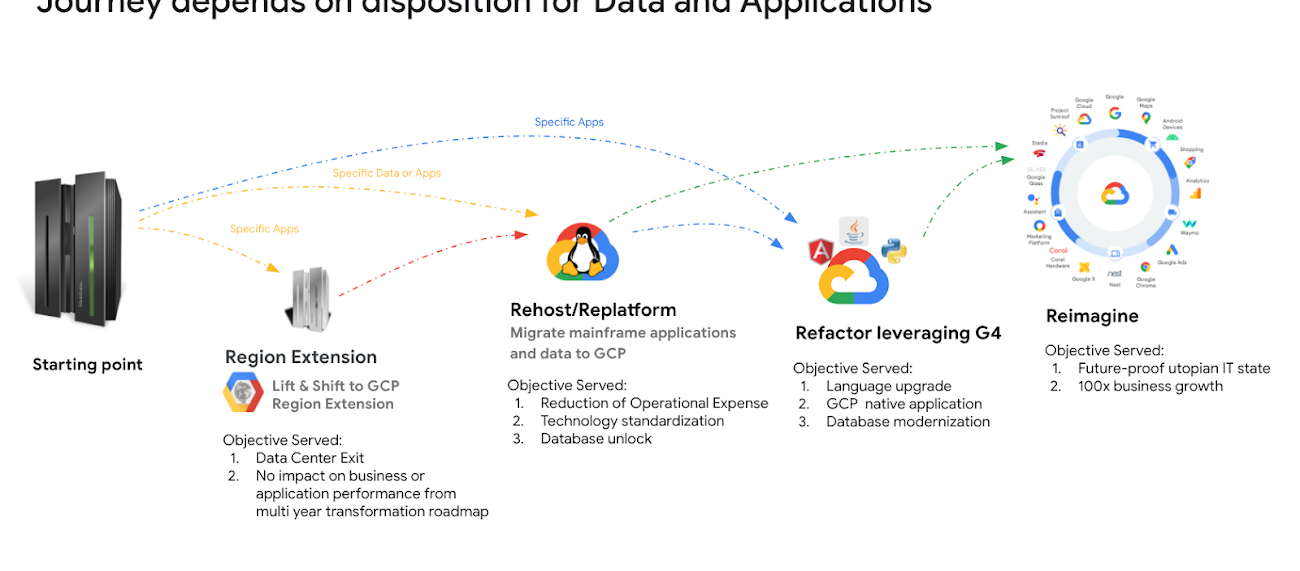 For a long time, the mainframe modernization journey has been defined as just moving the workload off the mainframe, with little or no focus on business amplification. As a result, there has not been much success in either commencing projects like these or in completing them.
But mainframe modernization should be looked at from a business imperative lens. You need to define a goal before embarking on the transformation path. This will help identify the right partner and trusted advisor, optimize the overall effort, and minimize the number of hops to get to that goal.
Google's approach to mainframe modernization revolves around bringing business needs to the forefront of modernization initiatives. Let's look at these one by one:
One Google: As part of the larger Google ecosystem, it's quite easy and seamless for Google Cloud services to integrate with products like Maps, Search, and Ads and hence be able to provide a very personalized and enhanced user experience. Most enterprise customers are existing subscribers to one or more of these services, so it's also easy for them to integrate Google Cloud services.
Data-first modernization approach: Google offers a data-first approach to mainframe modernization that involves moving 'system of records' or 'system of engagement' from a mainframe to Google Cloud datastores. This approach enables you to leverage and unlock the data in many ways:

Enabling business users, aka citizen developers, to build apps leveraging data and tools like AppSheet.
Reducing mainframe consumption by routing web and mobile apps to data on Google Cloud.
Including the data that was moved from the mainframe to Google Cloud in advanced analytics to understand customer behavior and come up with market-relevant products.

AI/ML on Google Cloud: When it comes to extracting info and wisdom from raw data using artificial intelligence and machine learning, there's no parallel to Google. And thereby our customers get a significant competitive advantage in understanding market trends and behavioral patterns. This enables them to meet and exceed customer requirements while providing a very personalized experience.
Industry-specific solutions: Google has been investing heavily in business-specific industry solutions. With innovation deep rooted in its DNA and culture, Google has always been looking at things, starting from search, outside the box. One example is AlphaFold, which is an artificial intelligence program created by Google's DeepMind that performs predictions of protein structure. Another example is Verily, whose mission is to make the world's health data useful so that people enjoy longer and healthier lives. Similarly, Waymo is focused on fully autonomous driving, Wing is focused on drone delivery, and Route4Me provides easy-to-use driving route optimization for businesses. In financial services, there are Google Pay, Lending DocAI, Procurement DocAI, Real-time credit card fraud detection, and so on.
All these business amplifications and enhancements come with state-of-the-art cloud infrastructure:
Hardware security: Google OpenTitan is the first open source project that builds a transparent, high-quality reference design and integration guidelines for silicon root of trust (RoT) chips.
Data security: The user owns the data. They set the rules and decide who needs to access what. Google Cloud encrypts data not only at rest and in motion but also during processing.
Latency: With an in-house network of optical fibers and undersea cables, there's significantly less latency compared to others. Google search runs on the same platform.
Scalability: Alphabet has 9 products—Android, Chrome, Gmail, Drive, Maps, Search, the Play Store, YouTube and Photos—with more than a billion users each. These run on Google Cloud providing an uninterrupted experience to all users.
100% carbon neutral footprint: Helps customers fulfill their obligations towards carbon neutrality and help save the planet earth.
Many of the large deals like Sabre, Deutsche Bank, Albertsons Companies and Telus are testament of Google's focus on amplifying and redefining business with our customers. With the advent of Google Cloud's focus on mainframe modernization, business stakeholders are finding value in business transformation. Instead of looking at the modernization from an 'IT lens' and decommissioning the mainframe, they found a partner in Google who strives to not only solve the current problems but also define a 'North Star' for the enterprise and collaborate to achieve those goals.
Conclusion
Wrapping the thought with automobiles—Tesla showed the possibility that an automobile can be software driven, independent of fossil fuel, and contribute to reducing carbon footprint at the same time. Having said that, this has only been possible with the revolutionary or evolutionary journey started by Mr. Ford.
By: Aman Gupta (Mainframe Solutions Specialist)
Source: Google Cloud Blog
---
For enquiries, product placements, sponsorships, and collaborations, connect with us at

[email protected]

. We'd love to hear from you!
---
Our humans need coffee too! Your support is highly appreciated, thank you!