With the move to a hybrid workplace, organizations need to bridge the gap between locations and devices, and facilitate more immersive connections between their people, partners, and customers. This is especially important in conference rooms and shared spaces where video meetings are occurring more regularly with a return to the office. That's why we've invested in improving the experience for in-room and remote participants alike withCompanion mode,assigning room devices to breakout rooms, andquickly framing in-room participants. We also announcedadaptive framing with AI-powered cameras from Huddly and Logitechto accurately frame in-room participants and give everyone the full context of what's happening in the meeting room.Today, I'm excited to announce two innovations that will give organizations more flexibility and choice in how they use Google Meet from their meeting rooms and shared spaces.
Bi-directional interoperability between Zoom and Meet
In the hybrid workplace, organizations are struggling to connect their conference rooms to customers, partners, or colleagues in different organizations due to platform interoperability challenges. To help overcome this, we've been working with our partners to give customers as much flexibility as possible to connect with people within and outside their networks. Last year we launched bi-directional interoperability betweenCisco Webex devices and Google Meet devices, and we continue our support ofPexip for Google Meetso users can seamlessly join Meet meetings from a wide range of third-party video conferencing solutions.
Today, we're building on this work by announcing support for embedded bi-directional interoperability on Zoom Rooms and Google Meet devices coming later this year, with no additional licensing cost.This means Zoom Rooms will be able to join Google Meet meetings, and Google Meet devices will be able to join Zoom Meetings — either directly from a Zoom Room or a Google Meet device calendar with a single touch of a button, or by entering in a meeting code. At launch, Zoom interop will be supported on all ChromeOS-based Meet devices with support for additional products over time. Google Meet interop will be supported on all Zoom Rooms across all platforms. Administrators will be able to turn on interop for registered devices in their organization, and allow trusted devices to join cross-platform calls without knocking.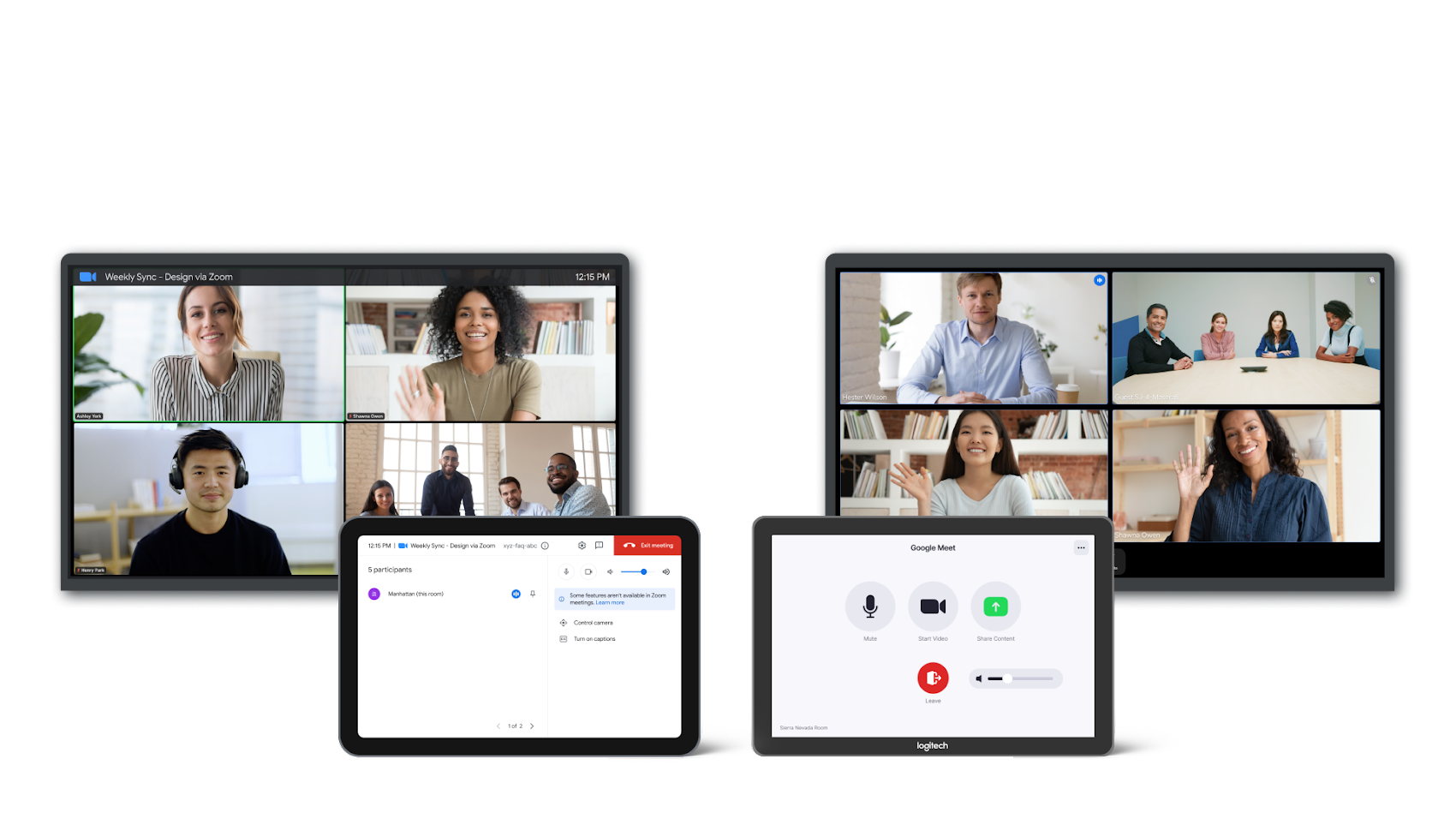 Left: Zoom Meetings on Google Meet hardware.Right: Google Meet on Zoom Rooms
Google Meet for Poly and Logitech Android-based appliances
While Google Meet devices have historically been standardized on ChromeOS, open source Android-based devices have become increasingly popular as a video conferencing platform-independent solution. I am excited to announce that Poly and Logitech will be the first two video conferencing partners to deliver Meet for Android-based appliances. This will enable customers to buy a device from Poly or Logitech that will run Meet, or another third-party conferencing platform, based on admin configuration. In fact, customers with existing Poly or Logitech Android-based devices will be able to leverage their investment and move to Meet by just adding a Meet license for these devices.
The Poly Studio X family will offer a comprehensive Android-based appliance for Google Meet rooms of all sizes: Studio X30 for small rooms, Studio X50 for medium rooms, and Studio X70 for large rooms. The Studio X family delivers innovative audio and video features with Poly DirectorAI intelligent camera framing, Poly NoiseBlockAI to filter out non-verbal noises, and Acoustic Fence to shield calls from extraneous sounds. Poly is expected to deliver its first Meet-certified Android-based appliance in early 2023.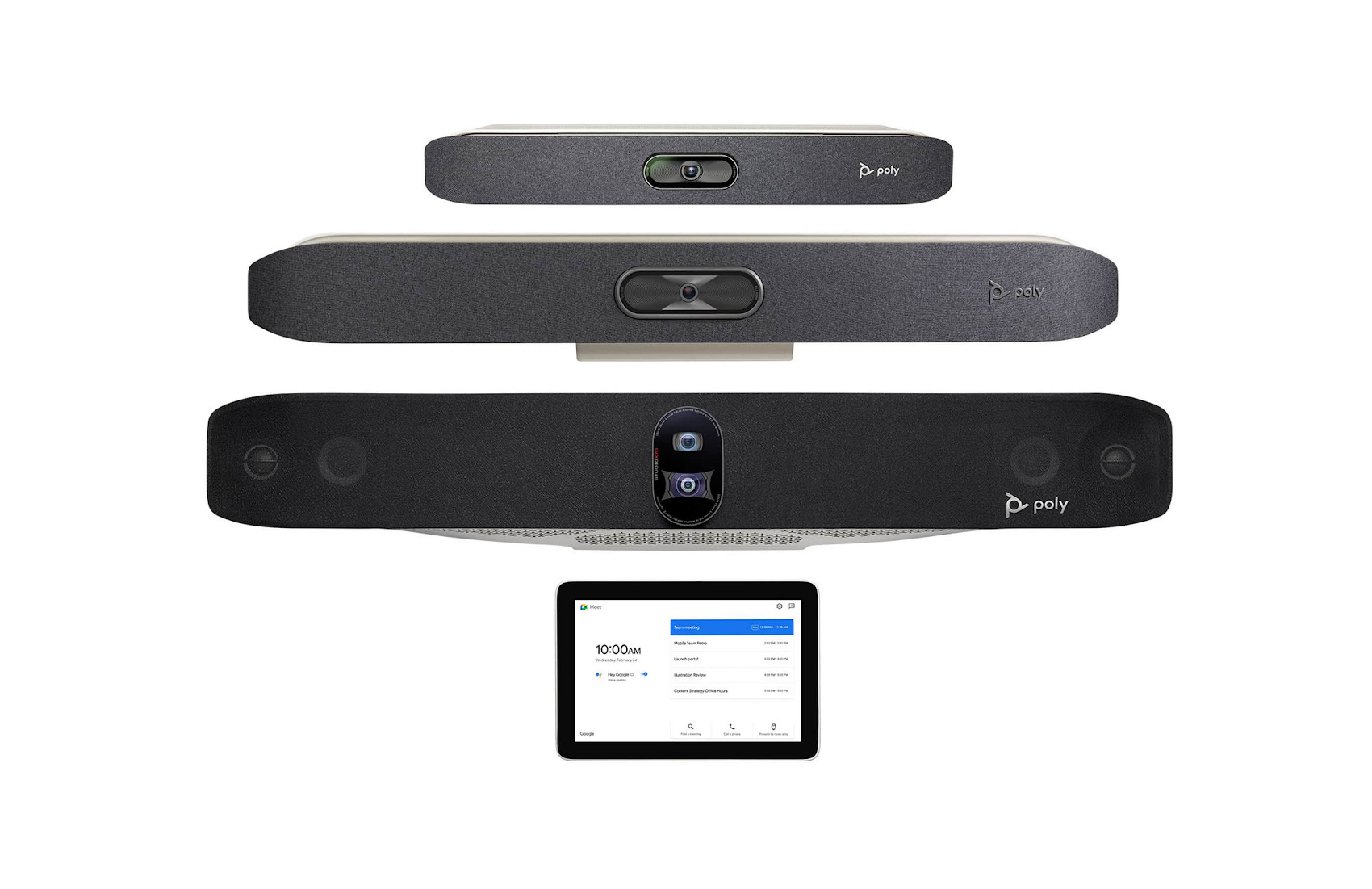 Poly Studio X on Meet
Logitech will offer an Android-based appliance version of its Rally Bar and Rally Bar Mini for Google Meet in 2023. Designed for medium-to-large rooms and small-to-medium rooms, AI-powered Rally Bar and Rally Bar Mini can deliver crystal clear audio and cinematic video, while drastically reducing setup time and cabling complexity. These products also provide the added flexibility of deployment with either the Meet Compute box or in appliance mode.

Logitech Rally Bar and Rally Bar MiniTo help enable organizations to thrive in hybrid work, they need to close the gaps between people, across teams, and within and beyond the office walls. These innovations by Google and our partners can help further break down the barriers between video conferencing platforms and give greater choice and flexibility for our customers.
By: Dave Citron (Director of Product, Google Workspace)
Source: Google Cloud Blog
---
For enquiries, product placements, sponsorships, and collaborations, connect with us at hello@globalcloudplatforms.com. We'd love to hear from you!
---
Our humans need coffee too! Your support is highly appreciated, thank you!